Chef Willem P. Bezemer

Sep 23, 2014 03:12PM ● Published by Cen Cali Life Magazine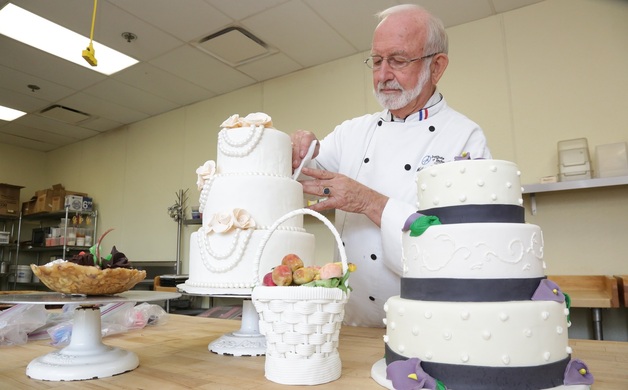 Gallery: Chef Willem P. Bezemer [3 Images] Click any image to expand.
Chef Willem P. Bezemer
by Amy Guerra 
Nearly 60 years ago, Willem P. Bezemer was a 14-year-old boy in the Netherlands about to embark on an apprenticeship in the career of his choice. He initially thought about farming but was dissuaded by the times he'd seen his father wake for work. A chef, a pastry chef to be specific, had all the creativity he wanted in a career and it was no secret that they got to eat their mistakes. For seven years, he worked diligently and, at 21, became a Master Pastry Chef.
Not too long after, filled with a longing to see the world, he traveled for the Holland America cruise line as a pastry chef. When he heard that the finest pastry chefs were working for hotels in Switzerland and France, he followed suit, working in some of Europe's finest hotels.

As the years passed, his fellow chefs advised him that the world's best pastry chefs had experience in diverse cultures, so he took work in Acapulco and Puerto Rico. After his son graduated from business school, Bezemer came to Fresno and they opened a successful local bakery, DeBakkerij European Style Bakery & Café. Fourteen years later, he sold the bakery to travel and spend more time with his grandchildren.

Today you can find Chef Bezemer at the Institute of Technology in Clovis, where he enjoys his role as a part-time instructor in the culinary arts department. While he still creates pastries and custom cakes for outside charitable events, Bezemer is equally passionate about teaching. "It keeps me young … I love being able to teach the next generation of chefs," he said. "As long as I'm vertical, I'll be there." 

He shared with us a recipe for Dutch Jan Hagel cookies, one of his bakery's best-selling items. For those of us without the close to 60 years of pastry experience under our belt, this recipe may be difficult, but we are publishing it in its original format. Because if a 14-year-old kid can try their hand at it, so should we.

Dutch Jan Hagel cookies 


500 grs. Butter (2 ¼ cups or 1.1 lbs.)
400 grs. Brown sugar (14 oz.)
Cream the butter and brown sugar together
20 grs. water (3/4 Cup) 
750 grs A.P. Flour (7.5 Cups)
60 grs. cinnamon powder (8 Tablespoons) SIFT AND ADD TO ABOVE
10 grs. Baking soda (2 teaspoons)
10 grs. Salt (2 teaspoons)
When dough comes together, wrap and chill.
Roll out to ½ centimeter thickness, covering a whole baking sheet.
Brush with egg wash, sprinkle generously with sliced almonds & sanding sugar.
Servings: Makes 8 dozen cookies

Eet smakelijk (Enjoy)!
Food+Drink
,
Today
,
Arts+Entertainment
Willem P. Bezemer
Culinary Profile